Since re-opening its doors partway through 2020, the opulent new I'M HAN Night Station in Wuhan, China, has been making international headlines thanks to more than just its lavish appointments and unparalleled production technologies package.
In fact, when the upscale nightspot welcomed much-hyped DJ crew Pink Panda to its stage in July, it marked the first time an international artist had performed in the city since the onset of the COVID-19 pandemic – and it was a PK SOUND Trinity system from Chinese distributor Polar Audio driving the high-energy party.
"Our vision with I'M HAN Night Station was to spare no expense and deliver the finest nightlife experience you'll find anywhere in the world," comments Mr. Kane Lin of Singapore's Dyson Kane Group, which oversees the club. "The audiovisual elements are obviously a significant part of that, and PK SOUND has a global reputation for technological innovation and powerful, high-impact audio reproduction. It's the go-to system for many of the world's top artists and DJs, and that's the level of talent we're proud to feature at I'M HAN, so the choice was clear."
First opened in late 2019, I'M HAN represents an $18.5 million US (¥120 million) investment and boasts a lush 10,000 sq. m. (107,000 sq. ft.) of space, including the Main Party Hall, four smaller themed halls, and over 30 Party K karaoke suites.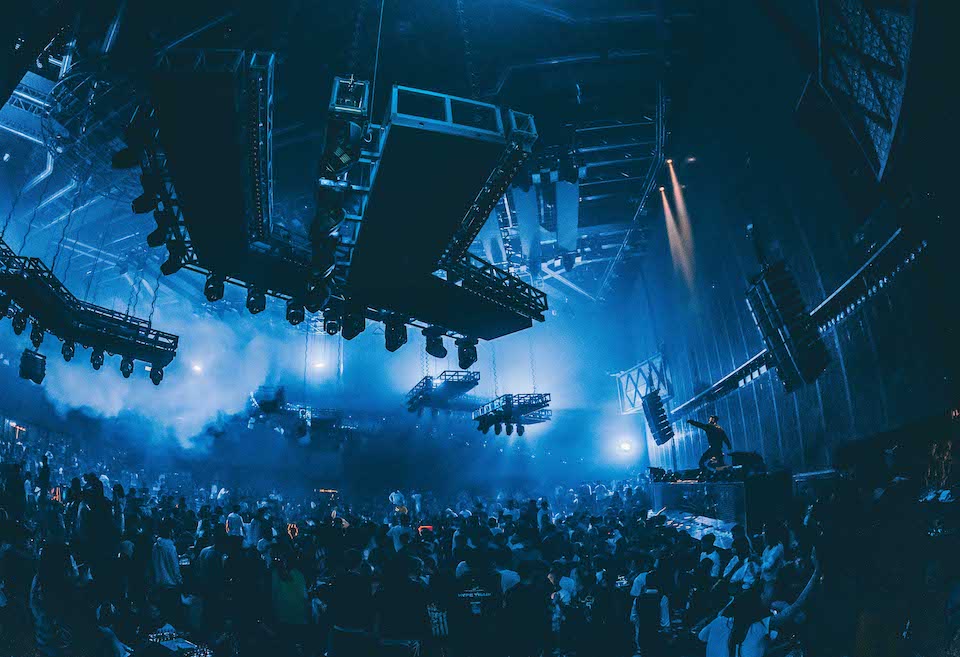 The expansive audio system in the Main Hall is anchored by PK SOUND's T10 Install line source element, which packs the tour-proven performance of the company's robotically controlled Trinity family into sleek, architecturally focused enclosures. The main left-right arrays flanking the stage comprise seven T10 Installs per side, with two smaller arrays of three T10 Installs each serving as delays midway through the hall.
"We've been very successful putting Trinity systems into some of the top nightspots throughout China thanks to PK SOUND's global reputation for delivering clean, clear, and incredibly powerful audio reproduction," comments Polar Audio's Hawking Yuan. "The guest experience at I'M HAN is second-to-none, from the décor and the lighting, laser, and video systems through to world-class sound. They demanded the best across the board, and that's why they opted for PK SOUND."
Low-end reinforcement for the main stage comes via five Gravity 218 subwoofers, with an additional 24 CX800 subs strewn throughout the hall beneath cocktail and VIP tables. Rounding out the system are eight CX215 two-way enclosures and a complement of compact Klarity point-source loudspeakers and subs deployed as fills throughout the adjacent spaces.
A team from Polar Audio handled the system design and installation, with onsite assistance from Rory Stewart, PK SOUND's Application Engineer, who travelled from the company's headquarters in Calgary, Canada to oversee the project.
In addition to Pink Panda, I'M HAN's main stage has hosted major international touring artists like Carl Nunes, Aryue, and several others, as well as prestigious awards galas and more in the months since its triumphant reopening.
"We're very proud of the work our partners at Polar Audio have put in to grow PK SOUND's profile throughout China, and I'M HAN Night Station represents the pinnacle of their efforts so far," says Trevor Grenier, PK SOUND's Senior Accounts Manager. "We're looking forward to the word about I'M HAN's cutting-edge audiovisual systems spreading far and wide, and helping other clubs in China and beyond to deliver a premium guest experience powered by PK."
Photos courtesy of I'M HAN Night Station / Polar Audio