PK Sound, the robotic line array company, has augmented the performance of all Trinity Series robotic line source systems with the introduction of new fourth-generation DSP presets. Developed in collaboration with Paul Bauman, PK Sound CEO Jeremy Bridge, and some of the world's top designers and FOH engineers, the new V4 presets deliver increased max SPLs; smoother coverage across all variable symmetric, asymmetric, and tapered horizontal configurations; and additional tools to mitigate noise pollution.
"With this latest update to our DSP presets, we focused on a signature global voicing for the entire Trinity Series, more consistent performance through the range of vertical and horizontal coverage options, and extracting every bit of output from the technologies we've built into our products," comments Jeremy Bridge, CEO of PK Sound. "The result represents the next generation of line source systems with unparalleled performance, output, and the technological advantage of variable multi-axis robotic coverage control."
Available to all current owners and users, the revamped presets have extended the max SPL levels of Trinity Series offerings to new highs of 151.4dB for Trinity Black large-format line source elements, 146dB for T10 medium format elements, and 145.1dB for T218 intelligent subwoofers.
The complete list of V4 DSP preset performance enhancements includes: a tonally balanced global voicing for current and incoming Trinity Series systems; extended variable horizontal pattern control from 200 Hz-16 kHz and uniform frequency response from 60-120° across all symmetric, asymmetric, and tapered configurations for line source elements; improved cardioid performance and new crossover options for T218 subwoofers; and a low-latency mode for T10 and T218 modules.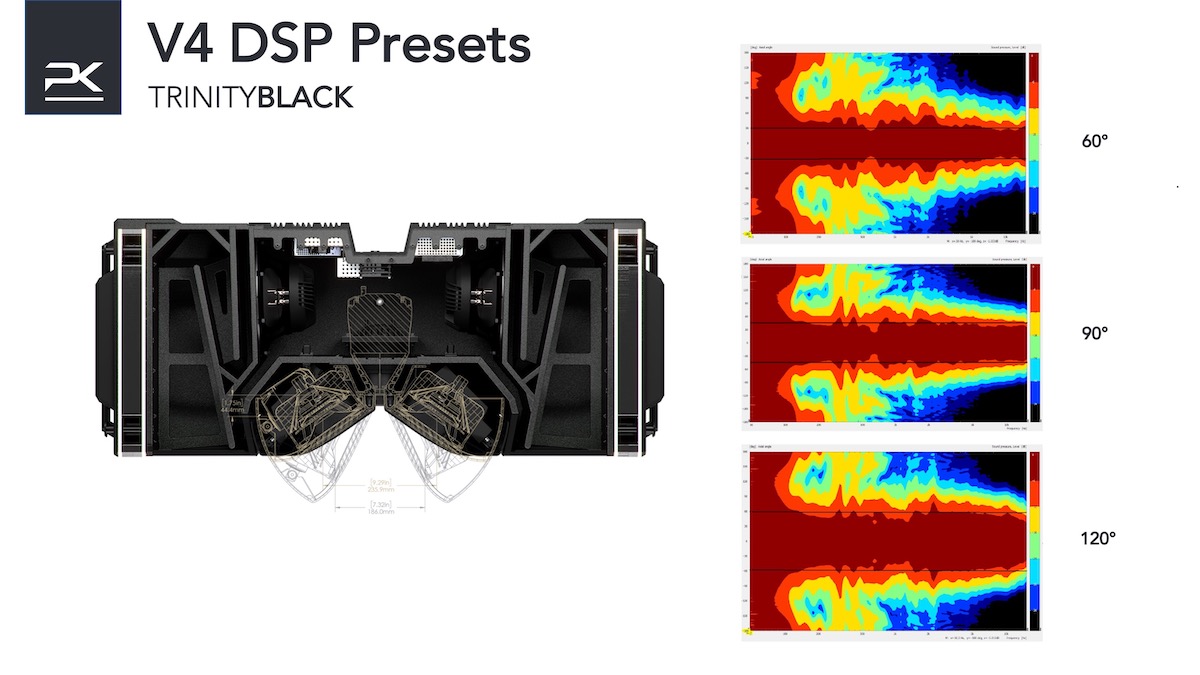 In tandem with PK Sound's incoming .dynamics software platform, which unites every stage of the modern live sound workflow in a single application, the next-generation presets unlock a new degree of soundfield control and consistency for technicians and engineers.
"It's been a pleasure collaborating on the V4 Preset development," adds Paul Bauman, who formalized PK's development process for this and future DSP projects. "PK Sound's Trinity Series offers virtually continuous control of the horizontal plane, so the potential for sophisticated beam forming with tapered arrays, combined with the physical optimization of horizontal and vertical coverage, is a powerful base to build on."
Check out this video featuring Paul Bauman & Jeremy Bridge introducing the V4 DSP Preset development project.
PHOTO #1: PK Sound augments the performance of Trinity Series systems with new V4 DSP Presets available to all users.
PHOTO #2: PK Sound's V4 DSP Presets extend max SPLs of Trinity Series offerings.
PHOTO #3: PK Sound's V4 DSP Presets improve consistency of frequency response of Trinity Black & T10 line source elements across all variable symmetric, asymmetric & tapered horizontal configurations from 60°-120°